Oorspronkelijke auteurs van dit instrument zijn Gough & Heilbrun. De vertaling van de adjectieven is van L.Segers. Deze checklist bevat een groot aantal (300) persoonlijkheidseigenschappen in de vorm van adjectieven die door de participant aangevinkt moeten worden als hij/zij vindt dat deze op hem/haar van toepassing zijn. De factorstructuur komt goed overeen met het Five-factor model van de persoonlijkheid (Piedmont et al., 1991).
Er zijn 2 subtests: feitelijk zelfbeeld en ideaal zelfbeeld (of reële instructie en ideale instructie). De scoring is zeer uitgebreid en o.a. gebaseerd op het behoeftensysteem van Murray (1938), bijv. "Agressie", "Inlevingsvermogen", "Autonomie",  "Doorzettingsvermogen". Daarnaast zijn er specifieke persoonlijkheidsschalen en schalen voor interpersoonlijk gedrag, en ook voor creativiteit en intelligentie. Een aantal grafische afbeeldingen van de scores zijn op te roepen (zie onderstaande figuur). Er zijn voorlopige (Amerikaanse) normen. Individuele uitkomsten kunnen worden voorzien van een uitgebreide interpretatie.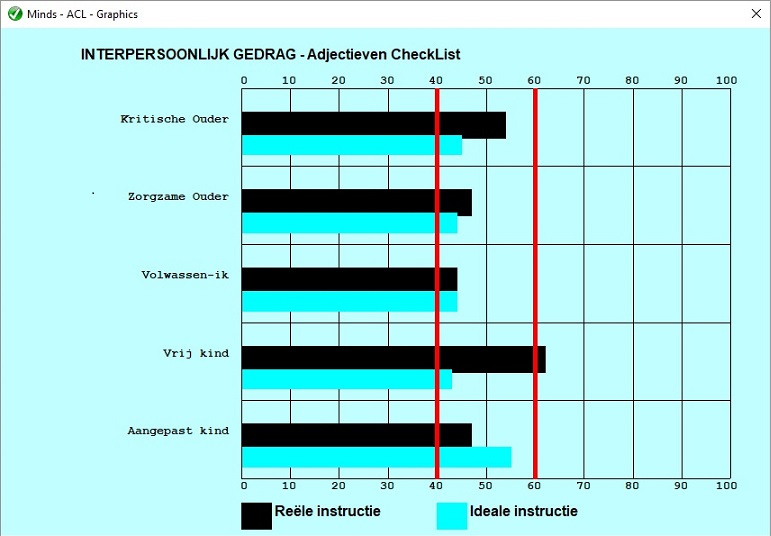 Literatuur:
Piedmont, R. L., McCrae, R. R., & Costa, P. T. (1991). Adjective Check List scales and the five-factor model. Journal of Personality and Social Psychology, 60(4), 630-637.
Murray, H. A (1938). Explorations in Personality. Oxford University Press.